Sanchez, an All-Star and Silver Slugger last season, has hit .283/.353/.567 with 53 home runs and 132 RBIs through his first 177 games in the big leagues. Despite missing most of April due to injury, his 33 home runs last season were the most by any catcher since the Braves' Javy Lopez hit 43 in 2003.
Sanchez is already a major Statcast™ star, ranking among the league leaders in a number of advanced metrics with both his bat and his arm. And he's only at the onset of his prime, beginning what the Yankees hope will be many productive seasons behind the plate in the Bronx.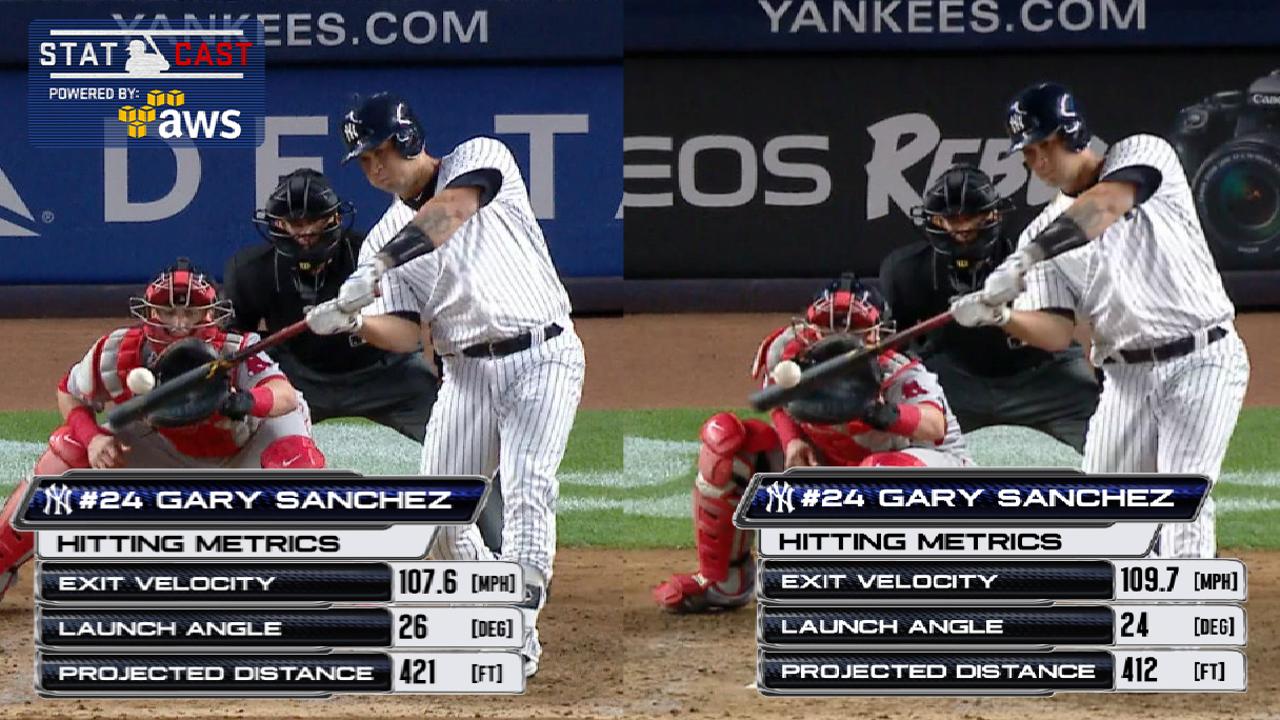 In honor of his 25th birthday, here's a closer look via Statcast™ at how the Yankees' young star has excelled in his brief Major League tenure.
His bat yields considerable power
The birthday boy put balls in play at an average of 90.7 mph last season, good for 11th among players with at least 300 batted balls. His teammate Aaron Judge tops the list at 94.9 mph. On home runs, Sanchez's average jumps to 107.3 mph, which ranks him fifth (min. 10 home runs).
That power extended into the postseason, where he recorded the third-highest hard-hit rate (min. 25 batted balls); 43 percent of Sanchez's batted balls exceeded 95 mph, putting him behind only the Astros' Yuli Gurriel (46 percent) and George Springer (49). Sanchez was also responsible for the hardest extra-base hit in the 2017 playoffs — a 113.1-mph double against the Astros in Game 4 of the ALCS. His five batted balls of 110 mph or greater tied Springer for the most in last year's playoffs.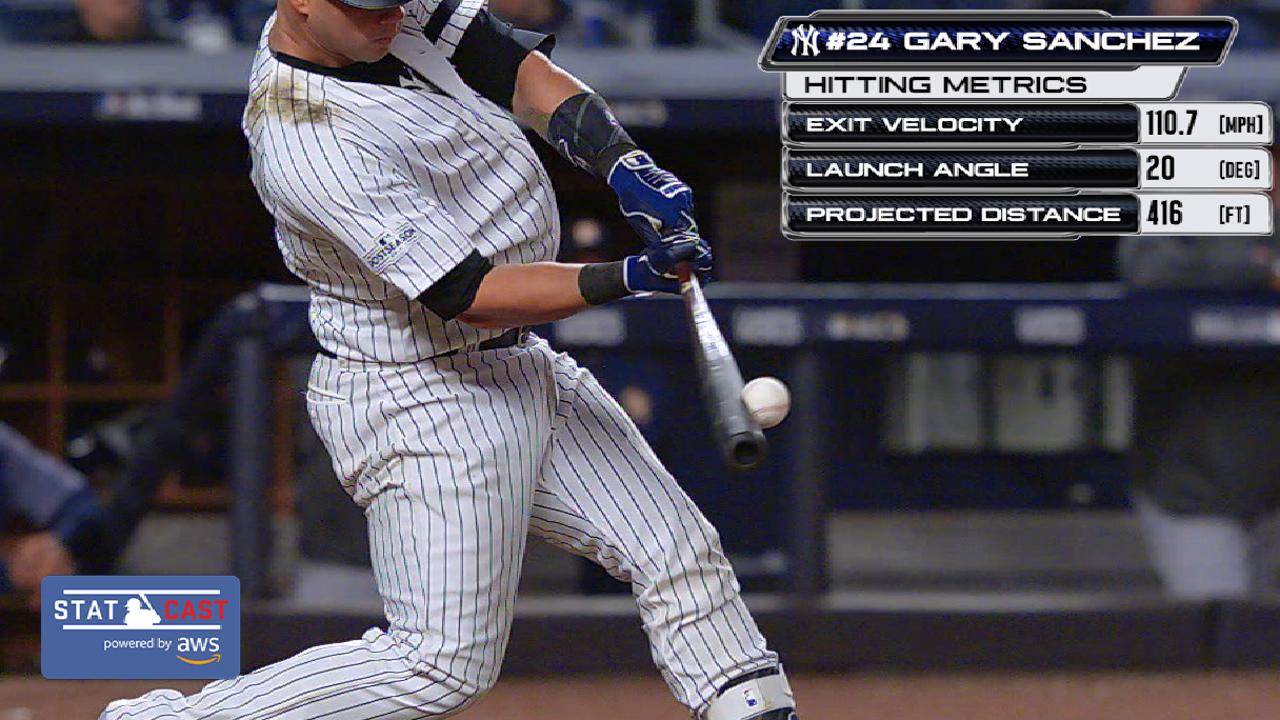 He can go the distance
Sanchez has also been among the best at putting distance on the baseball. His 493-foot blast on Aug. 22 vs. the Tigers was the second-longest home run tracked by Statcast™ in 2017, two feet behind Judge's 495-footer on June 11.
And it wasn't just that majestic blast at Comerica Park this summer. Sanchez was among the league leaders in average home run distance at 416 feet. Among players who hit 25 or more homers, Sanchez ranked fourth in average distance behind Joey Gallo (419 feet), Mark Reynolds (419) and Giancarlo Stanton (418). Sanchez topped 425 feet on 15 of his home runs, the sixth-most in baseball last season.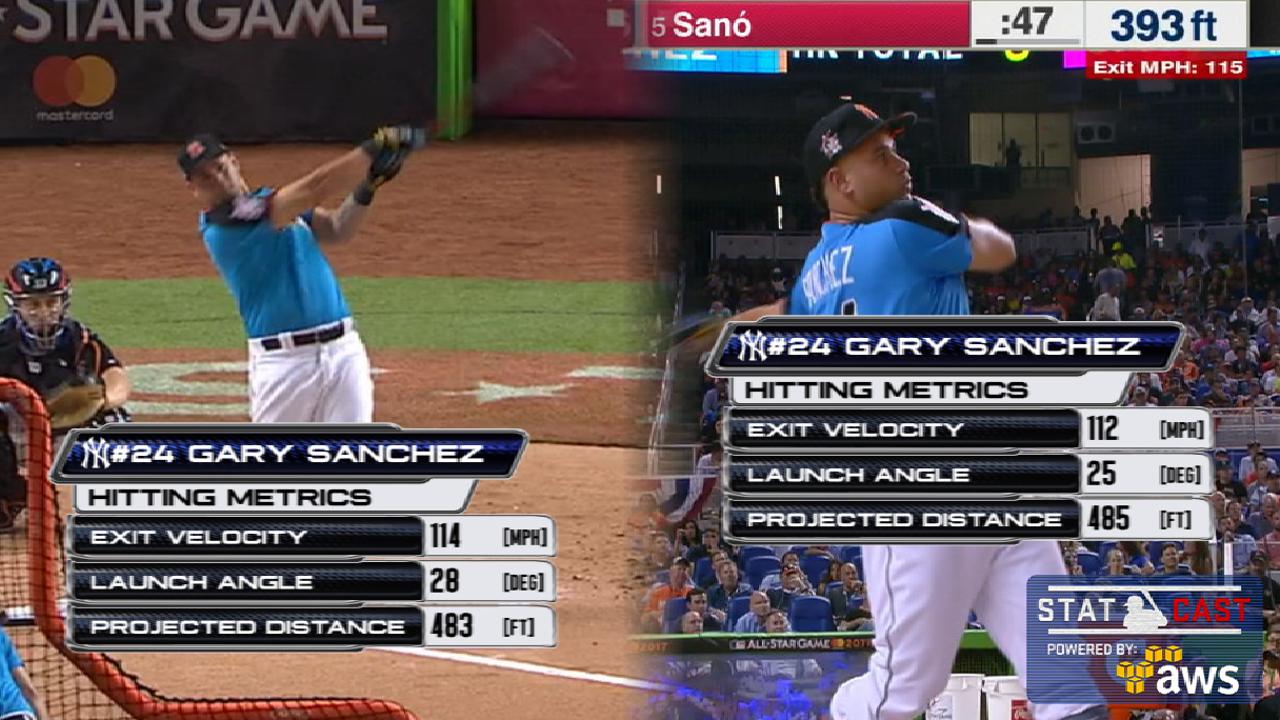 His power isn't limited to his bat
Sanchez boasts one of the strongest arms behind the plate. His max arm strength — calculated as the average of a player's max-effort (90th percentile and above) throws — was third-best among MLB catchers at 88.6 mph (min. 15 throws). Only the Cubs' Willson Contreras (89.0) and Martin Maldonado (89.1) ranked higher last season.
He also fairs well in his Statcast™ measurements for pop time, which records the time elapsed from the moment a pitch hits the catcher's mitt to when the intended fielder receives the throw. Sanchez's average pop time to second base was 2.08 seconds, ranking him 10th in the Majors, and his fastest was 1.89 seconds (seventh). By comparison, Austin Hedges tops the list with a 1.94-second average.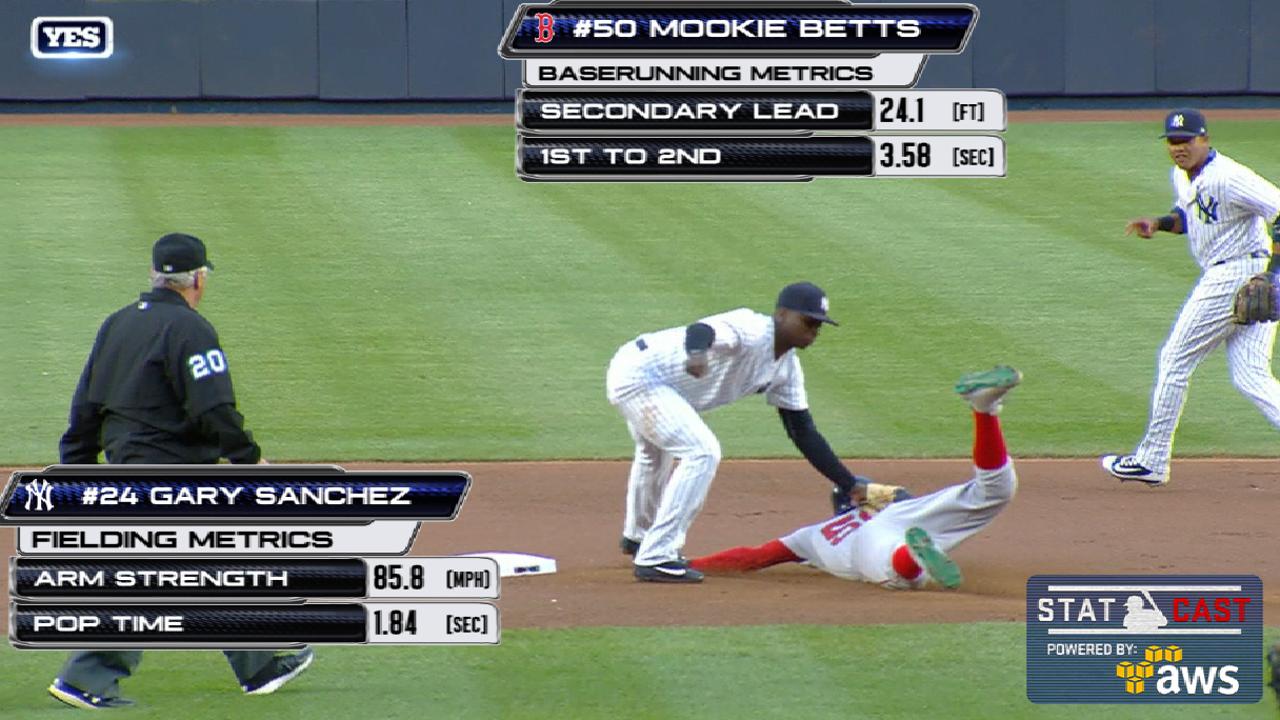 Chad Thornburg is a reporter for MLB.com based in Los Angeles. This story was not subject to the approval of Major League Baseball or its clubs.