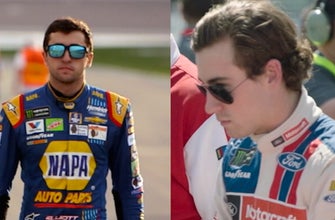 – I am very confident. This team has shown a lot of speed this year, and I think that he's going to show that when we get to Charlotte. He'll be brave and crazy at Talladega. He'll do whatever it takes, but this team will move on.
– Yeah I'm a little confused with this one, Mikey, because which one is going to show up? The ones where he was really running good on top, or is he going to be the kind of guy that's just kind of hanging out in the top 10, 15? If he does some of the things that we've seen him do this year, he can definitely move to the next round. But I'm a little confused about him.
SHANNON SPAKE: A little confused.
– I like that. I like confident.
– OK, go ahead.
– OK.
– What do you think about Chase Elliott?
– OK well, Chase Elliott. I'm concerned about Chase Elliott, and I'm not concerned about his performance. I'm kind of concerned about what the psyche is with the driver and the team after having winning race car last week. And a couple of times they've had a winning car and not been able to deliver. Is that going to affect them in a negative way, or is it going to be in a positive way? I'm concerned that it might not be positive.
– Well, here's what I am. I'm confused. And I think at times Chase Elliott's confused. He gets out of the car and talks about the things he should've done different, could've done different, questioning what he did on the racetrack. That will begin to weigh on you, and Dover has to be really challenging to him, because he was so close as well. But his dad lost a lot more races before he finally won one, so I know the kid is going to get it done. But right now I'm confused about Chase Elliott.
– And the key is do not let that finish beat him twice. Matt Kenseth, as we mentioned Ryan Blaney the one with a win this season. Matt Kenseth is the one driver that has a championship in this one. Let's hear what he has to say about going to Charlotte.
– Charlotte's got really rough for the last couple of years. You got to be able handle good through the bumps. Really both end of the track or are quite different.
There's a particular thing that I always look for at turn three and four. When you hit it, and you get the set up just right, and get your car to do exactly what you want to do down there, we've been really, really successful. And when I can't, it's typically been a struggle.
One of the toughest tracks we go, to particularly at night, if you lose that track position, at least for me, to get it back. So I feel like qualifying's important there, pit stops, restarts, all those things to do whatever you have to do to keep that track position all night.
– So the bad news is it's still Charlotte, so it's tough. The good news there, Matt, is it's a day race, so maybe not as tough. What do you guys think about Matt Kenseth?
– I'm definitely concerned, and I'm concerned because of something he said– restarts, late race runs. We haven't seen Matt be able to close lately. Can he get it done at Charlotte, certainly a track that he knows how to win at? I just am concerned that he's not going to have the ability at the end of the race to get the job done.
– Are you crazy, Mike? I am 100%–
– Yes.
– –confident in Matt Kenseth's ability to perform. Check back with me in about three races, because you're going to see some things out of Matt that you haven't seen this year.
– Uh oh.
– Possibly getting to victory lane soon. So I'm confident in Matt.
– Clip it, clip it.
– He's been running well. He just doesn't have the bonus points to seed him up above these guys. But he's running good.
– We're going to videotape this.
– Yeah, we're going to clip it, clip it.
– And we'll play it back and see what we found out about this. Jamie McMurray, this is a guy, even though he's at the bottom of this stack, I'm very confident about his ability because of what he's been able to accomplish in big races. He's won at Charlotte a couple of times. He won the Brickyard 400.
When it's a prime time event, Jamie McMurray steps up. I think he goes to Charlotte does just that. And the reason why also, Andy, because of Kyle Larson. The performance of that team together trading notes, I believe they're going to be tough in these next three races.
– Yeah I think he did feed off of that team early in the season, but I'm very concerned about him right now. He's been at the bottom he just kind of making it through. He didn't make it through the first round last year. He barely made it this year. I think he's going to have a tough time making that next round.
– All these guys.
– So I'm definitely concerned about Jamie McMurray.
– I see.
– And there you go.
– Well, you might have won me over on that.
– We got a lot of green, a lot of yellow, a lot of red. We'll have this conversation again, maybe next week, while we're looking ahead.