Didi Gregorius homered twice, CC Sabathia rolled back the clock with nine strikeouts before turning it over to the bullpen in the fifth inning and the Yankees completed their historic comeback from a daunting deficit, advancing past the Indians with a 5-2 victory in Game 5 of the ALDS on Wednesday night.
• 'Excited' to advance, Yanks celebrate ALDS win
"For me to be here with these guys is just unbelievable," Gregorius said. "This amazing, young team that we've got, everybody helps each other out here. Everybody wants each other to be good. I think that's the motto since I got here."
The Yanks will now face the Astros in the AL Championship Series presented by Camping World. Game 1 is scheduled for Friday at Minute Maid Park.
• ALCS Game 1: Friday, 8 p.m. ET on FS1
"There's a ton of fight in this club," Yankees manager Joe Girardi said. "It's a great mixture of youth and veteran players that are leading the way, and it's hard to believe, because we just beat a really, really good team."
Participating in their fourth elimination game in the past eight days, the Yanks never trailed in the final three ALDS games. They jumped in front early again on Wednesday thanks to Gregorius, who launched a solo home run in the first inning and a two-run shot in the third as Cleveland ace Corey Kluber was dispatched to his second early exit of the series.
"You can't say enough of what Didi did," said Brett Gardner, who provided two big insurance runs with a single to end an epic 12-pitch at-bat against Cody Allen in the ninth inning. "Kluber is probably the Cy Young winner in the American League, for Didi to take him deep twice is pretty impressive."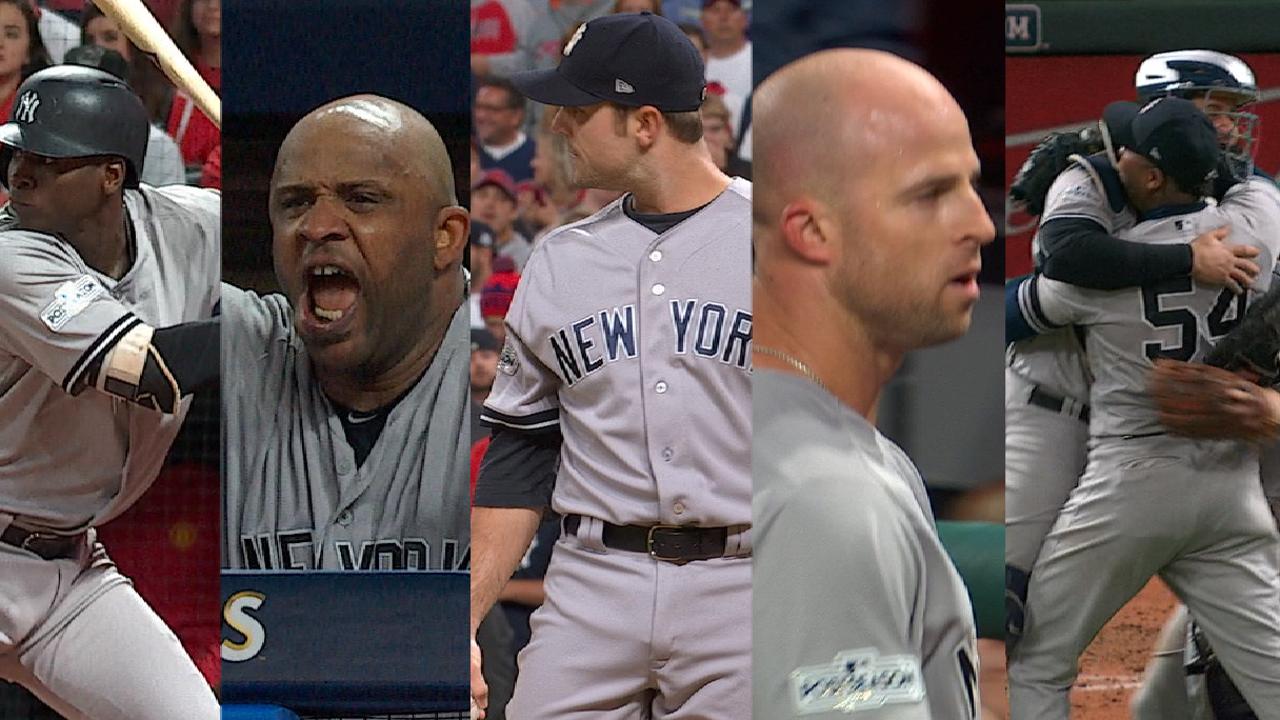 Winning pitcher David Robertson hurled 2 2/3 scoreless innings, and Aroldis Chapman converted a six-out save as the Yankees became the 10th team to advance after losing the first two games of a best-of-five postseason series.
"We did what we were supposed to do, which is hold the lead," Robertson said. "It was tough tonight. They are a resilient team. You have to just try to not make mistakes against them."
• Chapman, Robertson seal ALDS win
The Indians are the first team since the 2003 Athletics to win the first two games of a Division Series at home before being eliminated by dropping three straight. Dating back to last year's World Series, the Tribe has also lost six straight close-out games, and it is 2-8 in close-out games under manager Terry Francona.
"Everybody in this locker room has the utmost respect for Tito, including myself," Cleveland outfielder Michael Brantley said. "He puts us in position to succeed every single day. [Losing the series] has nothing to do with him. Absolutely not. It's on us."
Kluber lasted just 3 2/3 innings before Francona turned the game over to the bullpen. The AL Cy Young Award front-runner, who gave up homers to Gary Sanchez and Aaron Hicks in Game 2 on Friday, had never allowed multiple home runs in consecutive starts before this series. Kluber had also never gone fewer than four innings in back-to-back starts.
"Two pitches, really. I made two mistakes to Didi," Kluber said. "I put two balls right into his bat path, and he's a good hitter. He hit two home runs. That's really what stands out. It ended up being the difference."
• Kluber done in by two Gregorius homers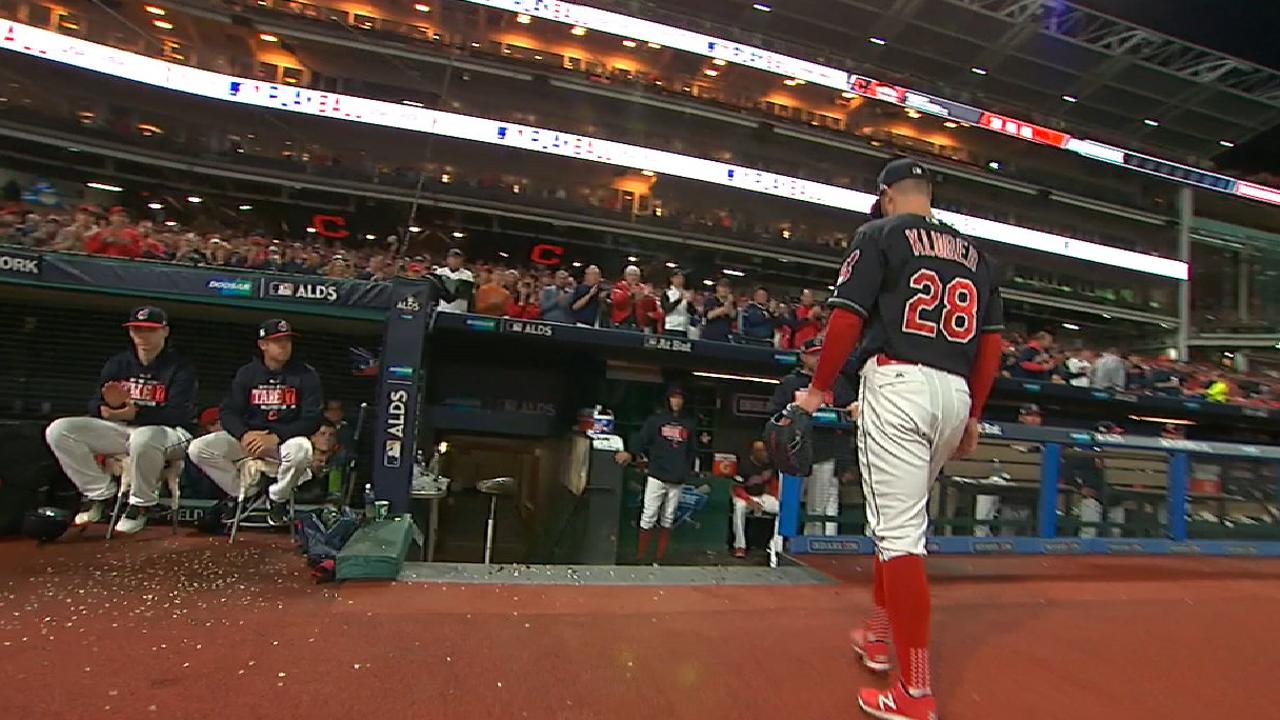 After the loss, Francona said Kluber was "fighting a lot" to be on the mound for the Tribe. Kluber, who missed time with a back injury early in the season, declined to elaborate.
"I don't think I need to get into details about it," said Kluber, who allowed nine runs in 6 1/3 innings in his two ALDS starts. "I was healthy enough to go out there and try to pitch."
The all-time leader in starts and innings pitched at Progressive Field, Sabathia seemed to thoroughly enjoy the early stages of his trip down memory lane. The former Tribe ace grinned widely after he pounced off the mound to snare Roberto Perez's popped-up bunt in the third inning, leaving a divot in the infield turf, part of a string in which he retired the first nine Indians and 13 of the first 14.
"It feels good. This is what you play for, a chance to win the championship here in New York, and we're on our way to do that," Sabathia said.
• CC makes catch, leaves a divot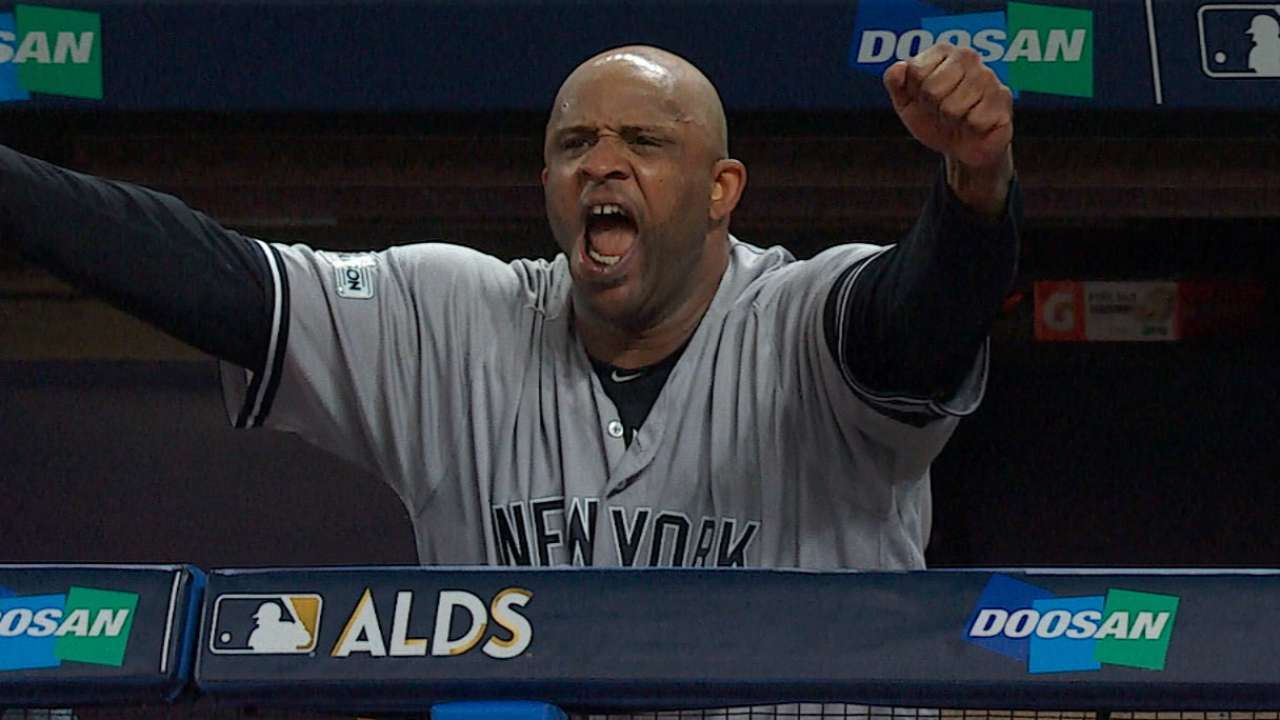 Inside a quiet Cleveland clubhouse after the team's incredible season came to an abrupt halt, players shook hands and shared hugs.
"You don't want it to end," Indians pitcher Josh Tomlin said. "When it finally does, it stings, especially the way it did. This is too good of a team to go home, and everybody in here knows it. That's why it's so tough for us."
• Tribe left to mull over questions after loss
MOMENTS THAT MATTERED
Yes Sir: Gregorius had been just 1-for-13 in the ALDS entering Game 5, but he produced his biggest swings when it counted the most. Gregorius gave the Yankees a quick lead when he pounced on a 94.1 mph 1-2 Kluber heater for a first-inning solo shot, then put New York up, 3-0, in the third when he cracked Kluber's 86.4 mph 0-1 curveball into the right-field seats. It was the third multihomer game by a Yanks player in a winner-take-all postseason contest, joining Yogi Berra (Game 7 of the 1956 World Series) and Jason Giambi (Game 7 of the 2003 ALCS).
"You know, anybody can be the big hero for the game, from top to bottom," Gregorius said. "That's what it shows you."
• Didi slugs way into Yankees' postseason lore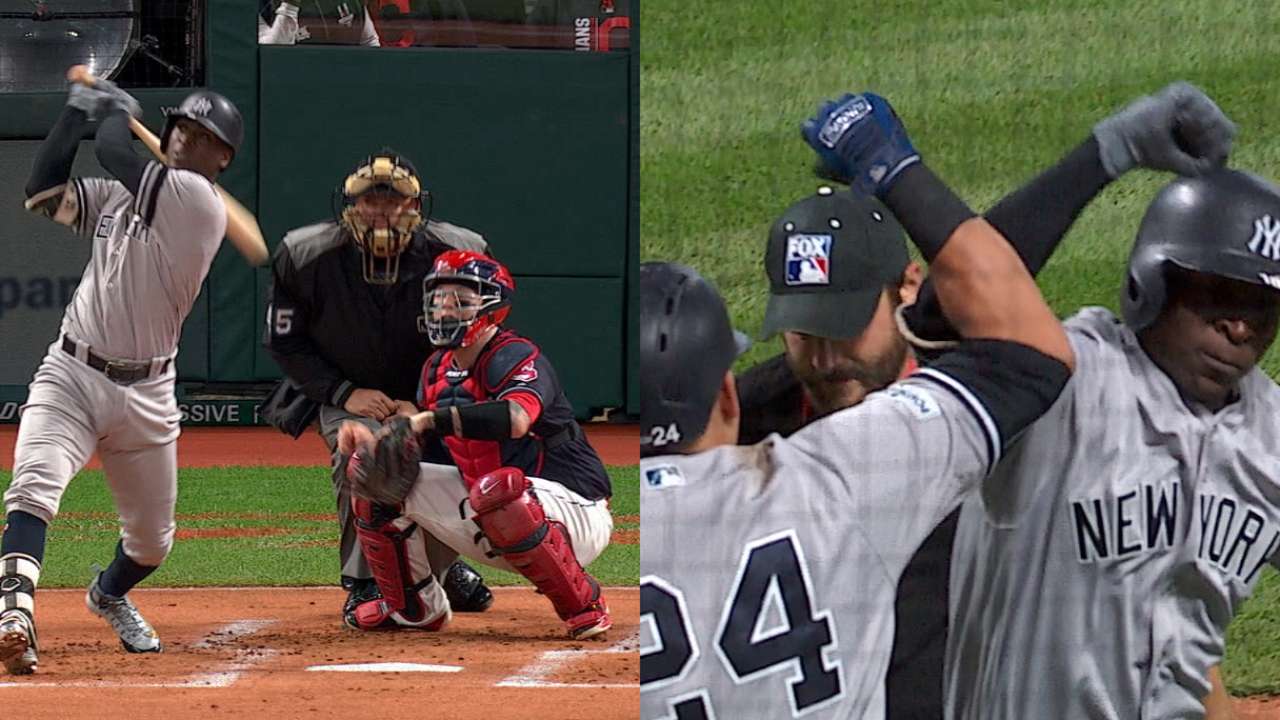 Great escape: Trailing, 3-0, the Indians peppered Sabathia with four straight hits to knock out the veteran and make it a one-run game in the fifth inning, with Perez flaring a run-scoring single to right and Giovanny Urshela picking up an RBI with a ground ball through the right side. The Yankees called upon Robertson, who needed just two pitches to induce Francisco Lindor to ground into an inning-ending double play.
"It's such a great example for our young guys," Girardi said. "He's ready to pitch any time, and he got big, big outs today. He got eight big outs. And he gets the big double play."
• CC fades in 5th after strong start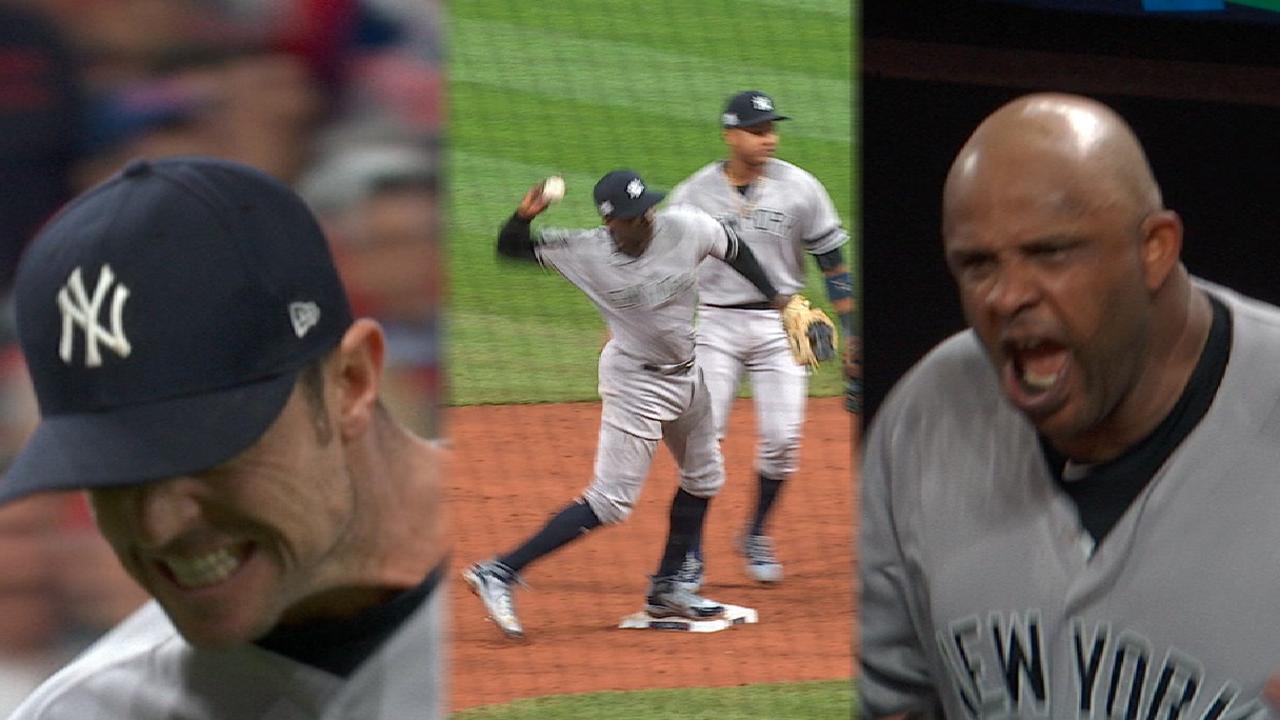 Caught looking, stealing: The Tribe ended a Yanks rally in emphatic fashion in the seventh inning, when Gardner reached on a single to bring Aaron Judge to the plate with one out. Setup man Bryan Shaw got a strike-three call on an outside cutter, and catcher Perez quickly fired to second, where Jose Ramirez applied a tag on Gardner for an inning-ending caught stealing. According to Statcast™, Perez's pop time was 2.01 seconds and his throw clocked in at 81.9 mph.
• Shaw grateful for Cleveland fans' support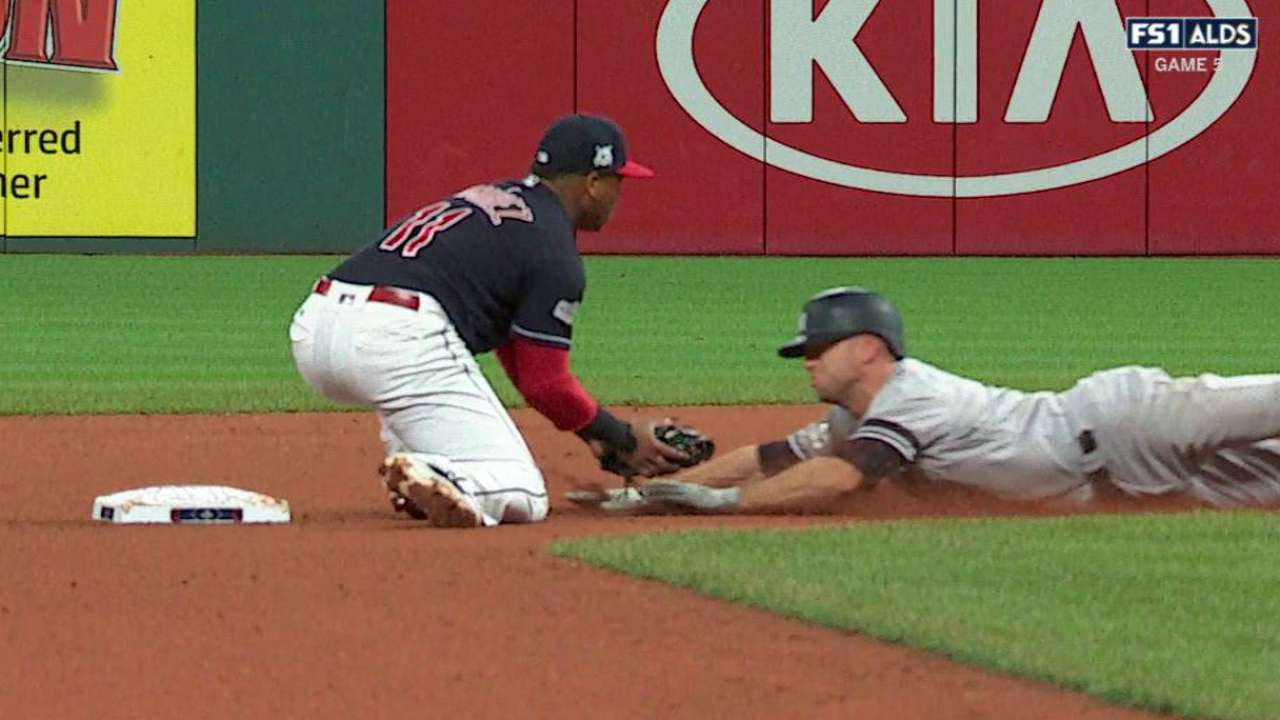 QUOTABLE
"There's a lot of fight. We fight, and we fight, and we fight. It's incredible to watch. A lot of these guys, I've gone through the Minor Leagues with. To see them develop and turn into what they have now, it's amazing." — Judge
• Yanks' ALDS comeback takes Girardi off hook
"Very disappointing. It's a sad day for me, for the team, for the city of Cleveland and for our families. Hats off to the Yankees. They absolutely outplayed us the last three games and they deserve to win. — Lindor
• Indians: Yankees 'played their butts off'
SOUND SMART WITH YOUR FRIENDS
Judge struck out in each of his first four plate appearances, setting and extending the all-time single postseason series record with 16 ALDS strikeouts. The previous mark of 13 strikeouts had been shared by the A's Brandon Moss (2013 ALDS), the Tigers' Austin Jackson (2013 ALDS) and the Cubs' Javier Baez (2016 World Series).
• Judge determined to get on track vs. Astros
The 31 combined strikeouts in the game set a Major League record for the most in a nine-inning postseason game. The previous record had been 28, done by the Astros and Royals in Game 4 of the 2015 ALDS.
This story was not subject to the approval of Major League Baseball or its clubs.