• ALCS Game 1: Friday, 8 p.m. ET on FS1
The opening game of the ALCS at Minute Maid Park will air on Friday at 8 p.m. ET on FS1.
Against an Astros lineup that proved relentless in topping Boston in the AL Division Series presented by Doosan, Tanaka will pitch Game 1 on the heels of arguably his best career start. On Sunday in the Yankees' ALDS Game 3 win, with his club on the brink of elimination, Tanaka twirled seven scoreless innings and struck out seven to spark the momentum that led New York to complete just the eighth comeback from an 0-2 series deficit since the best-of-five format was implemented.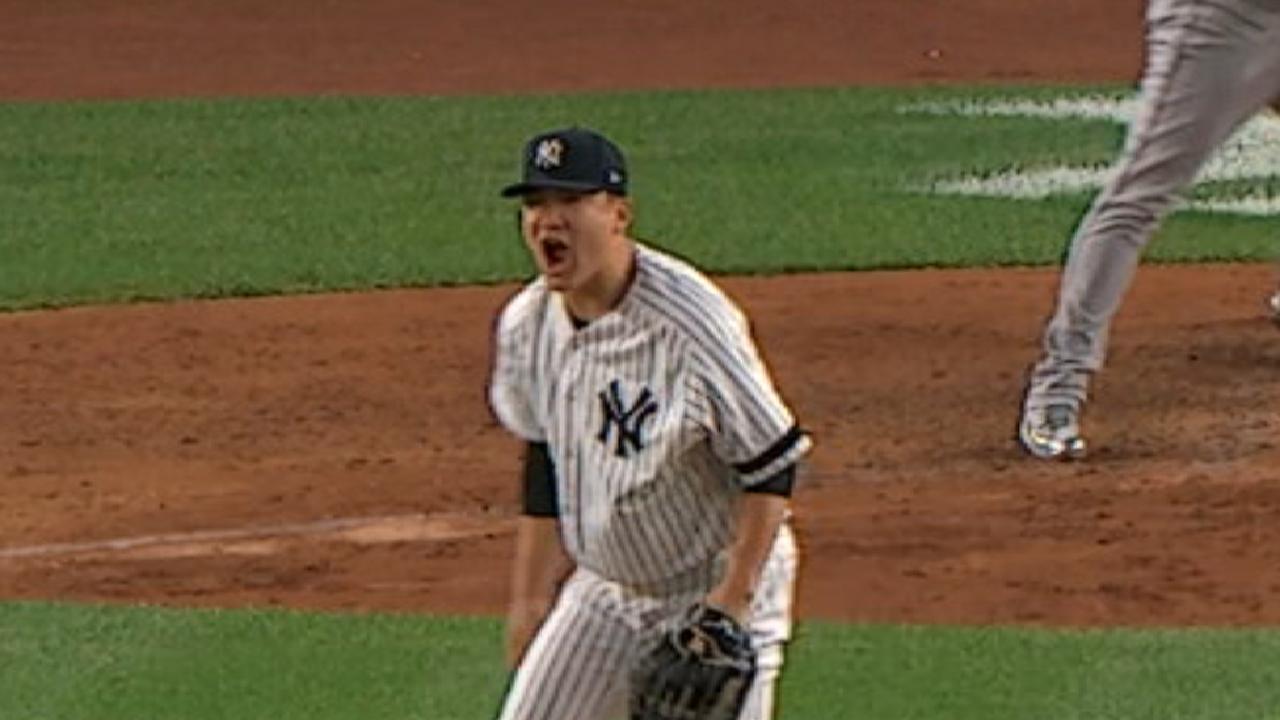 "Probably be the biggest win that I have gotten since I came here," Tanaka said after Sunday's win. "I came here to pitch in these types of games, and to be able to help the team win in these types of games."
Tanaka will follow that up against the club that was on the other end of arguably his worst career start. On May 14 against the Astros, Tanaka gave up a career-high eight earned runs on seven hits and lasted just 1 2/3 innings.
• Shop for Yankees postseason gear
Severino overcame a porous start in the AL Wild Card Game — in which he tied a Yankees postseason record by lasting just one-third of an inning — with seven strong innings in ALDS Game 4, during which he held the Indians to three earned runs with nine strikeouts.
"I told him after the game, he grew up a lot today," Yankees manager Joe Girardi said after Severino's most recent outing. "He started to get tired after the six innings … and he was able to get the extra inning, which was good for our bullpen. To me, that's growing up."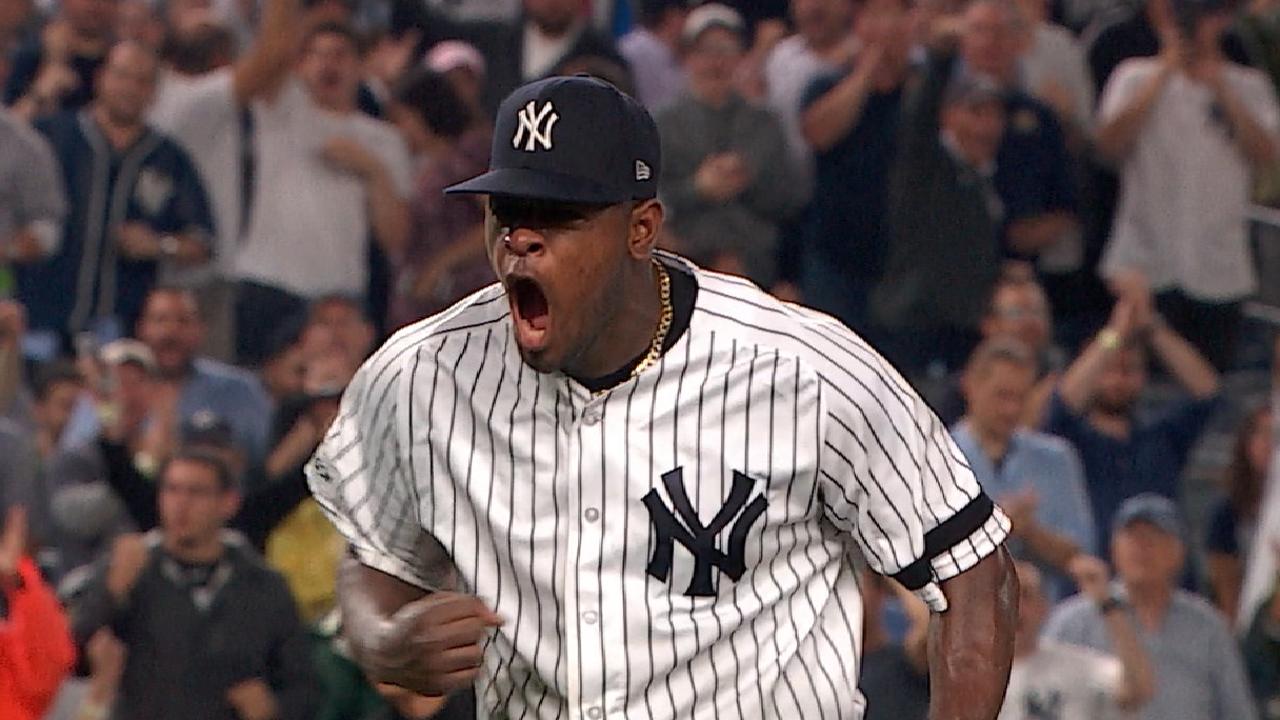 Severino's 2.98 regular-season ERA was third best in the AL, behind only AL Cy Young Award front-runners Corey Kluber and Chris Sale. Including the postseason, Severino is at 201 2/3 innings this year, well above his previous career high of 113 in 2014, when he was in the Minors.
Sabathia, well acclimated to big postseason moments, made two strong starts against the Indians in the ALDS, including a critical outing on Wednesday in the series clincher. He did not pitch against the Astros this year.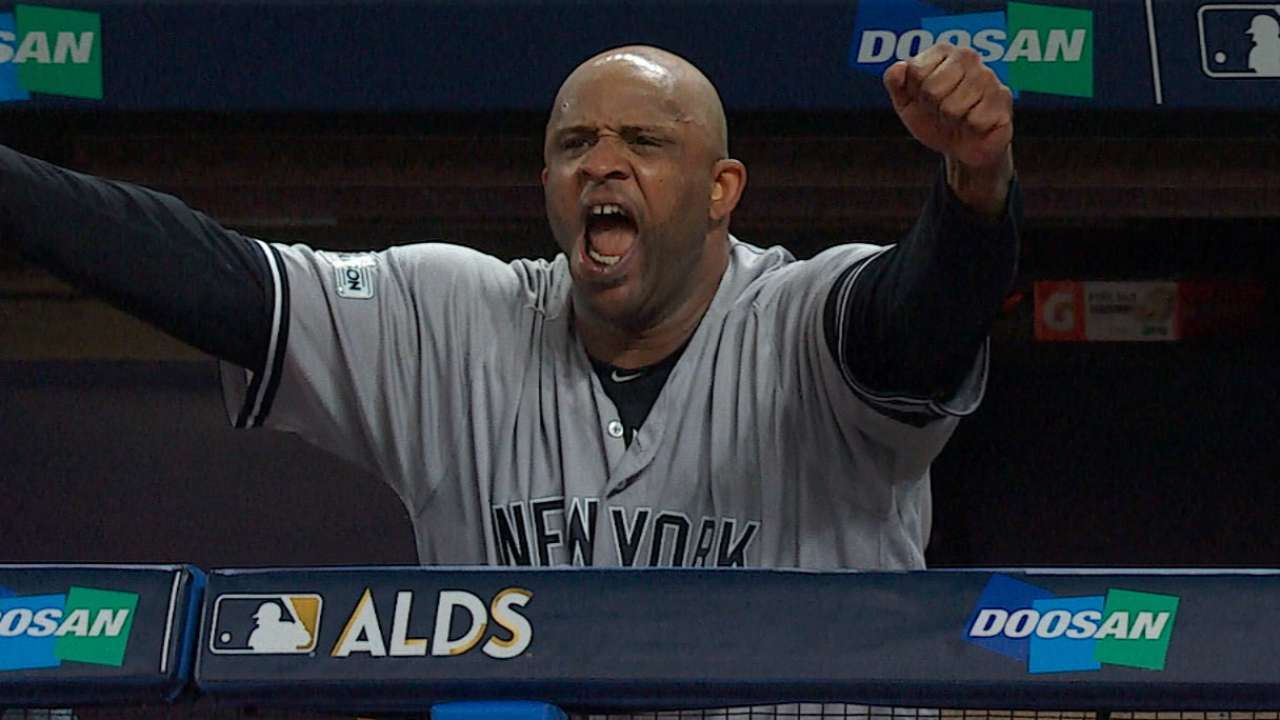 Gray could be an X-factor. The right-hander was acquired at the non-waiver Trade Deadline to contribute to a postseason run, and he knows the Astros well, having pitched his first four-plus MLB seasons with the AL West's Oakland A's. Gray has made nine career starts against Houston, going 4-3 with a 3.09 ERA.
Gray watched from within the division as the Astros transitioned from the depths of a 100-loss season in 2013, Gray's rookie year, to win their first division crown since 2001, when they were in the National League. In ALDS Game 1, Gray was tagged for three earned runs over 3 1/3 innings in a loss.
And our ALCS Game 4 starter will be…@SonnyGray2 pic.twitter.com/8GCGqN84ye

— New York Yankees (@Yankees) October 12, 2017
The Yankees' starters may match up well against the Astros' disciplined lineup. New York starters have registered 32 strikeouts this postseason, second only to the Nationals' 35 entering Thursday (including 22 from Stephen Strasburg alone). The Astros have struck out just 30 times this postseason in 147 plate appearances, second fewest among clubs that have played at least four postseason games. They also had the lowest strikeout rate in MLB, at 17.3 percent, and hit a tied-for-best .199 with two strikes.
Daniel Kramer is a reporter for MLB.com based in Denver. Follow him on Twitter at @DKramer_. This story was not subject to the approval of Major League Baseball or its clubs.